Planning the perfect private island holiday is no easy task. With so many elements to consider, from seasonality to the quality of service and excursions, a big-budget luxury escape needs to come with assurances. We know that time away with your loved ones is precious. We leave no stone unturned when choosing which private islands to work with. We are proud of the property collection we have built along with our global network of partners. We have put every destination through rigorous testing and researched on your behalf so that you can focus on enjoying the holiday of a lifetime.
Three private island hideaways that have risen above and beyond are Thanda Island, The Brando and Islas Secas. The staff behind these elegant retreats couldn't have been more helpful and welcoming. General Managers made themselves personally available, taking us on video calls around the islands, and the sales team were there at any time of day to answer our questions (and there were many!). The service is impeccable, and the nothing is too much trouble attitude made us confident our clients would be in the best hands at any of these private island retreats.
Each of these private islands is in another league when balancing the highest level of customer comfort with a commitment to wildlife conservation and helping the local community. Significant private funding supports long-term marine conservation and community projects. It has been heartwarming to experience such passion and pride for the pristine islands these teams are working hard to preserve and protect.
The visionary owners who built these luxury eco-retreats have paved the way for other influential leaders to follow. When the billionaire conservationist Louis Bacon bought Islas Secas in Panama, he designed the luxury renovations with the primary goal of preserving the archipelago's natural beauty. Louis Bacon and his contemporaries have demonstrated that you don't have to sacrifice comfort and quality to build a sustainable luxury resort.
We would love to hear from you if you want to learn more about our private island collection.
OUR Favourite Private Island in Tanzania
THANDA ISLAND: The Olofsson family home in the heart of a marine reserve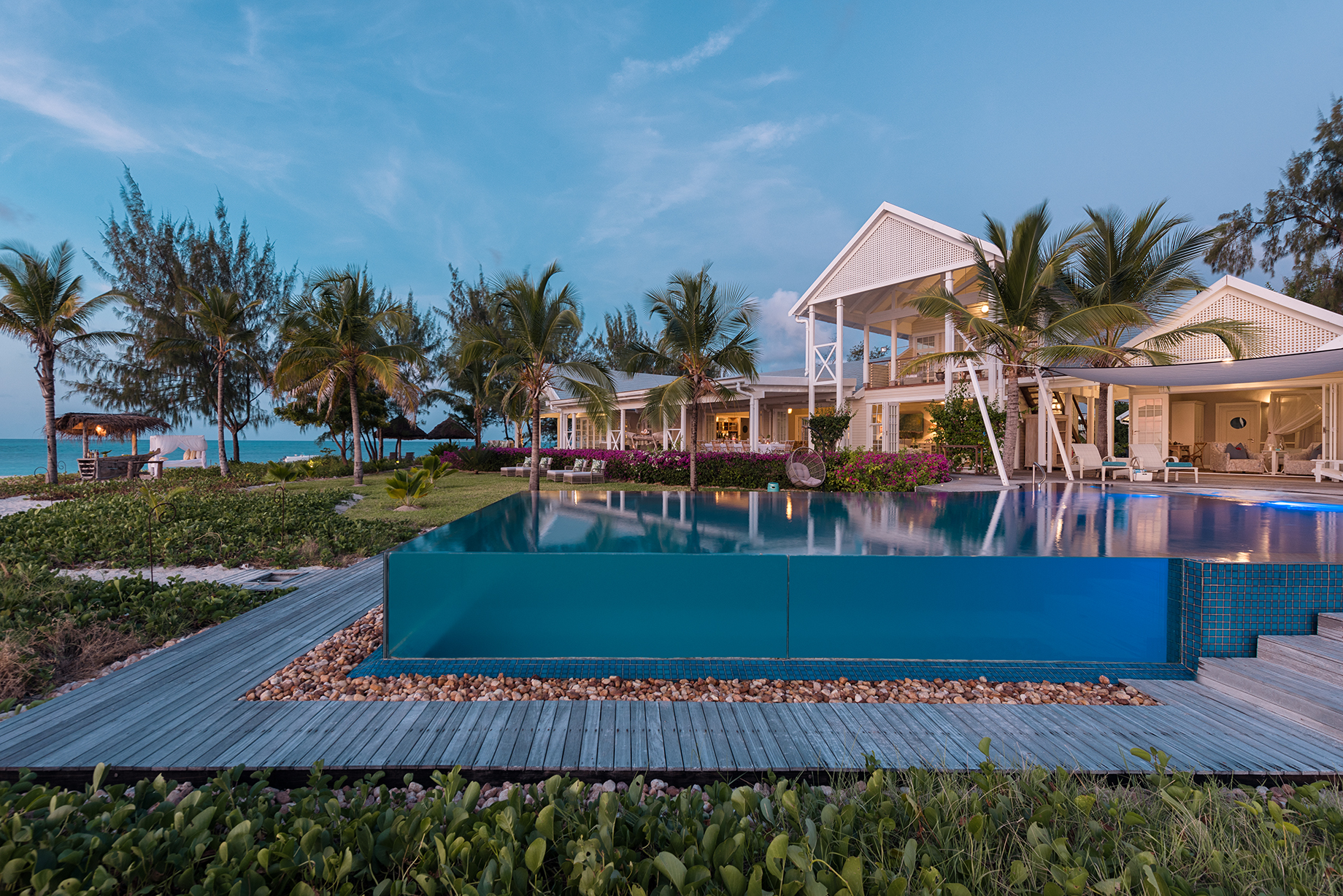 THE STORY
Thanda Island is a 20-acre pinprick in the Indian Ocean ringed by coral reefs and the pristine waters of a marine reserve. Built by the Swedish tech entrepreneur, Dan Olofsson, his vision was to design a luxury private island for his family that was unlike anywhere else in the world. The result is an exquisite family home with no cost spared.
The Rooms
The main villa is a plantation-style home with five bedrooms, a library and a wraparound deck with 180-degree views of the ocean. The two Tanzanian thatched bandas have two bedrooms each and were designed as hangouts for Olofsson's teenage children and grandchildren to escape when they wanted time out with friends. From the glass-rimmed infinity pool to the banda-style beach huts, Thanda Island is a haven of privacy and luxury for families and friends to enjoy in a breathtakingly beautiful setting.
KEEPING BUSY
Thanda Island is surrounded by the largest marine-protected reserve in the Indian Ocean, and there are plenty of opportunities for diving and snorkelling. The island can even arrange for guests to swim with whale sharks often found in these waters. There is a tennis court and volleyball court and a well-equipped gym in the main villa. Thanda Island is a perfect retreat for a private family holiday, and it combines well with Thanda Safari, the Olofsson's private game reserve in South Africa.
SUSTAINABILITY
Thanda Island is committed to conservation (part of the agreement for building on this deserted island was that Oloffson would invest in the Marine Park and hire from the local community). Thriving marine life is proof that conservation is working – five species of sea turtle can be found swimming in the reefs, and gentle whale sharks frequent these waters.
OUR Favourite Private Island in PANAMA
ISLAS SECAS: A wild Pacific wellness retreat immersed in nature
THE STORY
Islas Secas has been on my radar since it opened in 2019. The resort is located in a remote 14-island archipelago in the Gulf of Chiriqui off the Pacific coast of Panama. Islas Secas was purchased by billionaire conservationist Louis Bacon in 2009 and transformed into a haven of off-grid luxury. The resort moves with the slow rhythm of nature – archaeologists estimate that the last human habitation in the archipelago was 600 years ago, and Bacon promises that the island's wild heart will remain undisturbed.
The Rooms
With a total capacity of just 18 guests and 30 square miles of land and sea to yourself, Islas Secas feels intimate but spacious and can be hired as a private island buy-out. Guests have the option to stay in luxury tented suites or wooden casitas. Every room comes with a private deck and stunning views of the ocean. We love the two-bedroom treehouse casitas surrounded by leafy branches and expansive outdoor space overlooking the bay.
KEEPING BUSY
Guests regularly spot humpback whales in the migration season (December to April and July to October) and an abundance of wildlife can be discovered on nature trails with the island's in-house conservation team. Islas Secas is a family-friendly luxury resort with a well-stocked games room and kayaks or paddleboards for getting onto the water. Fishing trips and snorkelling or diving should not be missed as the region is famous for its diversity of marine life. The spa is one of the main features of Islas Secas, and a bespoke wellness journey can be curated for each guest. There is a variety of holistic therapy services available.
SUSTAINABILITY
Islas Secas prides itself on being a blueprint for sustainable tourism. The resort has impressive eco-credentials – they run on 100% natural energy and recycle 100% food waste for compost and wastewater for irrigation. Approximately 75% of the archipelago will be left wild and undeveloped, with only 13 of the 14 islands used for human habitation. The privately funded Islas Secas Foundation works closely with the local Chiriqui community supporting local businesses, education and conservation projects.
OUR Favourite Private Island in French Polynesia
THE BRANDO: Marlon Brando's escape to paradise
THE STORY
Marlon Brando stumbled upon Tetiaroa Island when scouting for picture-perfect locations for his 1960s film, Mutiny on the Bounty. Guests arriving on the private plane from Tahiti will encounter the same jaw-dropping experience Brando had when he first discovered an island paradise so alluring it was 'beyond his capacity to describe.' The Brando sits delicately on a small atoll encased in tropical flowers, shaded by coconut palms and surrounded by coral reefs and sand so white it turns the water in the lagoon silvery blue.
The Rooms
There are 35 thatched villas built with a contemporary twist on traditional Polynesian architecture. Every villa has a private pool and spacious deck leading to the soft sand and turquoise ocean. We love the three-bedroom luxury villas with large pools and sundecks and beautiful spaces for private dining and events.
KEEPING BUSY
There's plenty to do on this paradise island including tennis, paddle boarding, kayaking, bicycling and, of course, snorkelling in the coral gardens amongst the tropical fish and marine life. The Brando's Lagoon School invites children aged 6-12 to learn about the fascinating ecosystems living on the island and in the ocean. Whale watching is available from mid-July to mid-October.
SUSTAINABILITY
The Brando Team consider themselves as 'stewards of Tetriaroa.' The private island resort is nearly at the point of being 100% carbon-neutral and entirely self-sustainable. Half of the resort is powered by solar energy, and the rest runs on biofuel. The Brando was the first resort in the world to obtain the highest Platinum Certificate in LEED (Leadership in Energy and Environmental Design).